City Water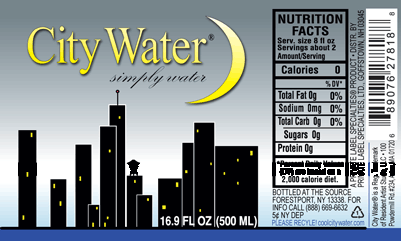 City Water® is a bottled water product born out of the need to illustrate that all bottled water must pass through an approved water treatment plant. Such is the case for City Water but just the product name conjures up pure suspicion. At the same time, others see it as the subtle humor that it portrays. The emotions run the gamut, it's either poison or laugh out loud hilarity.
Straight out of Gotham City, the twilight backdrop and a waxing crescent moon depicts a scene devoid of any human presence save for a few lights in the buildings.
Bottled in Mount Pleasant, Pennsylvania and labelled by Private Label Specialties, Goffstown, NH, the water is quite wet and refreshing at the same time. We sell exclusively to Julie's Place, 208 Main Street, Acton MA 01720.
The brand "City Water®" is a registered trademark of Resident Artist Studio LLC.